Plan Availability: Pro
To access your Analytics dashboard, click on the Actions

icon on the left and then select the Analytics

tab. Note, analytics aren't tracked for presentations with the Loop Playback turned ON in your Player Settings. Be sure to turn this option OFF if you wish to track analytics for a presentation.
Your dashboard allows you to see the:
Total Views: The total number of times the presentation was viewed
Views Per Day: Up to 90 days of history. If no activity, default 7 days
Unique Views: The number of unique views.
Average view time: The average time people spent on the entire presentation
Total View Time: collimation of all the views together
Completion Rate: Average percentage of presentation completed
Last Viewed: the last day it was viewed.

You will also be able to view the average time spent on each slide. The bars on the chart represent the average time the presentation was viewed. The lines represent the average number of views per slide.

Recent Views
This section will show you each time a link was viewed and is sorted by most recent views as well as the individual metrics.
When: The date it was last viewed.
Source: The link that was used (this can be reviewed in the Shared Links section)
Viewed By: The person who viewed the link
Duration: How long a viewer spent in the entire presentation
% of Slides Viewed: Percentage of slides viewed.

You are able to see the individual analytics of that view entry by clicking on one of the items. You will be launched into a second window which has more details for that particular entry: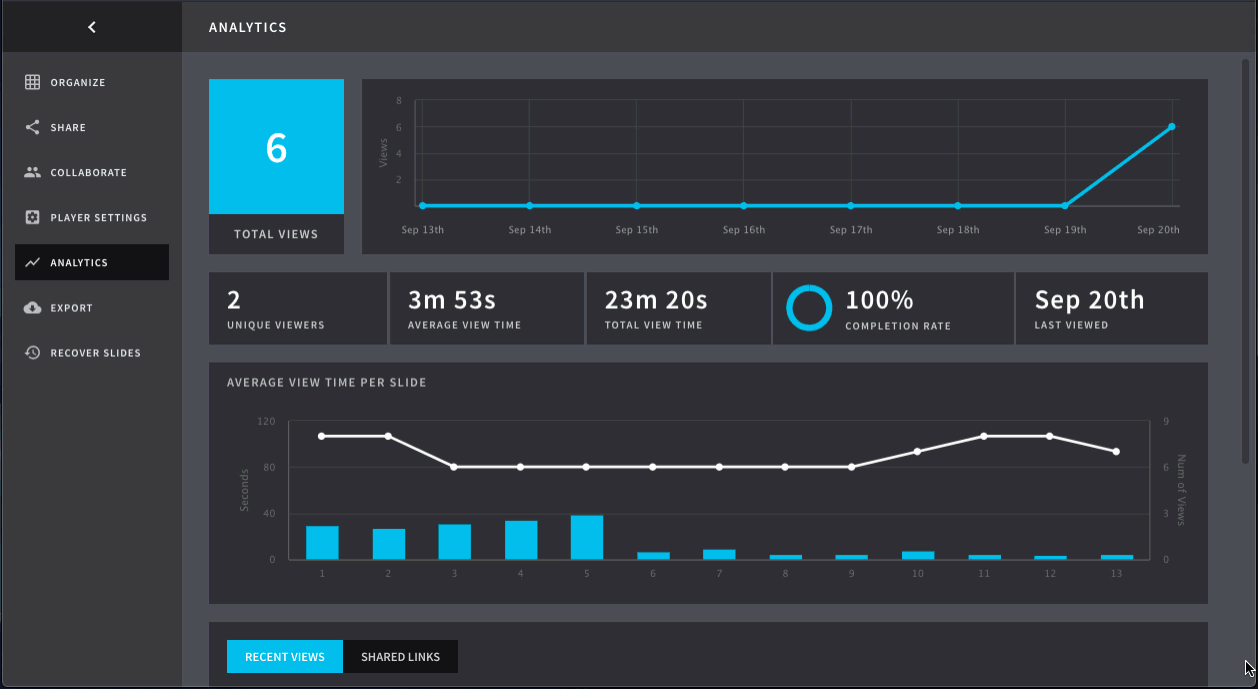 Shared Links
When you Collaborate

or Share

your presentation with someone, the system will generate a unique link for that user. These links can be viewed in the Shared Links section.