The new DesignerBot makes it easier than ever for non-designers to create a new presentation from scratch, regardless of the content. Users can opt to create a new deck with DesignerBot by entering a short description (or prompt) based on what they need.
Getting Started
To create a presentation using DeisgnerBot click on Create Presentation and select the DesignerBot tab.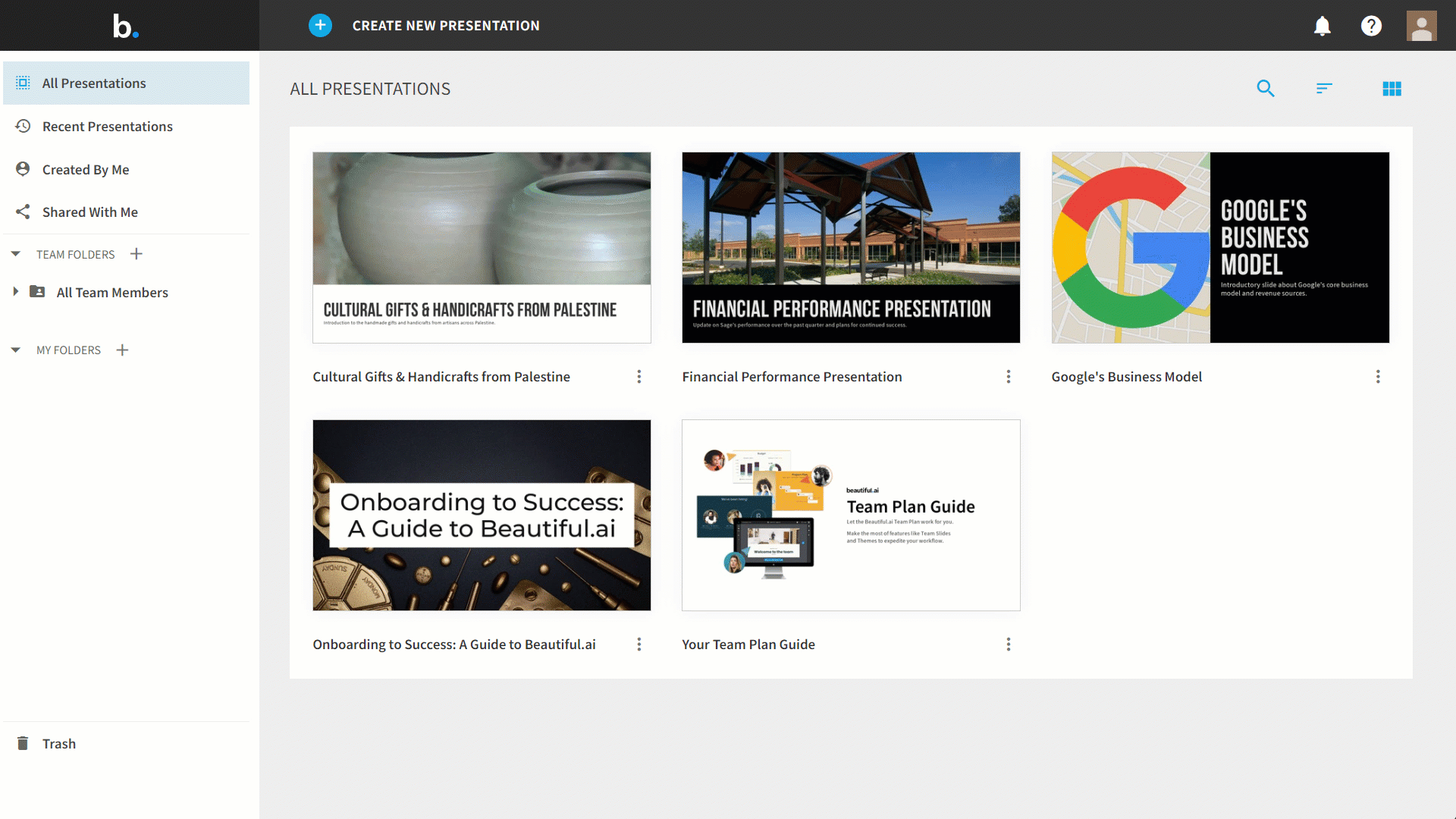 Prompt to Presentation
Enter a description of the presentation you'd like to create and click Generate Presentation and then Create Presentation on the following screen. This process can take up to a few minutes to complete.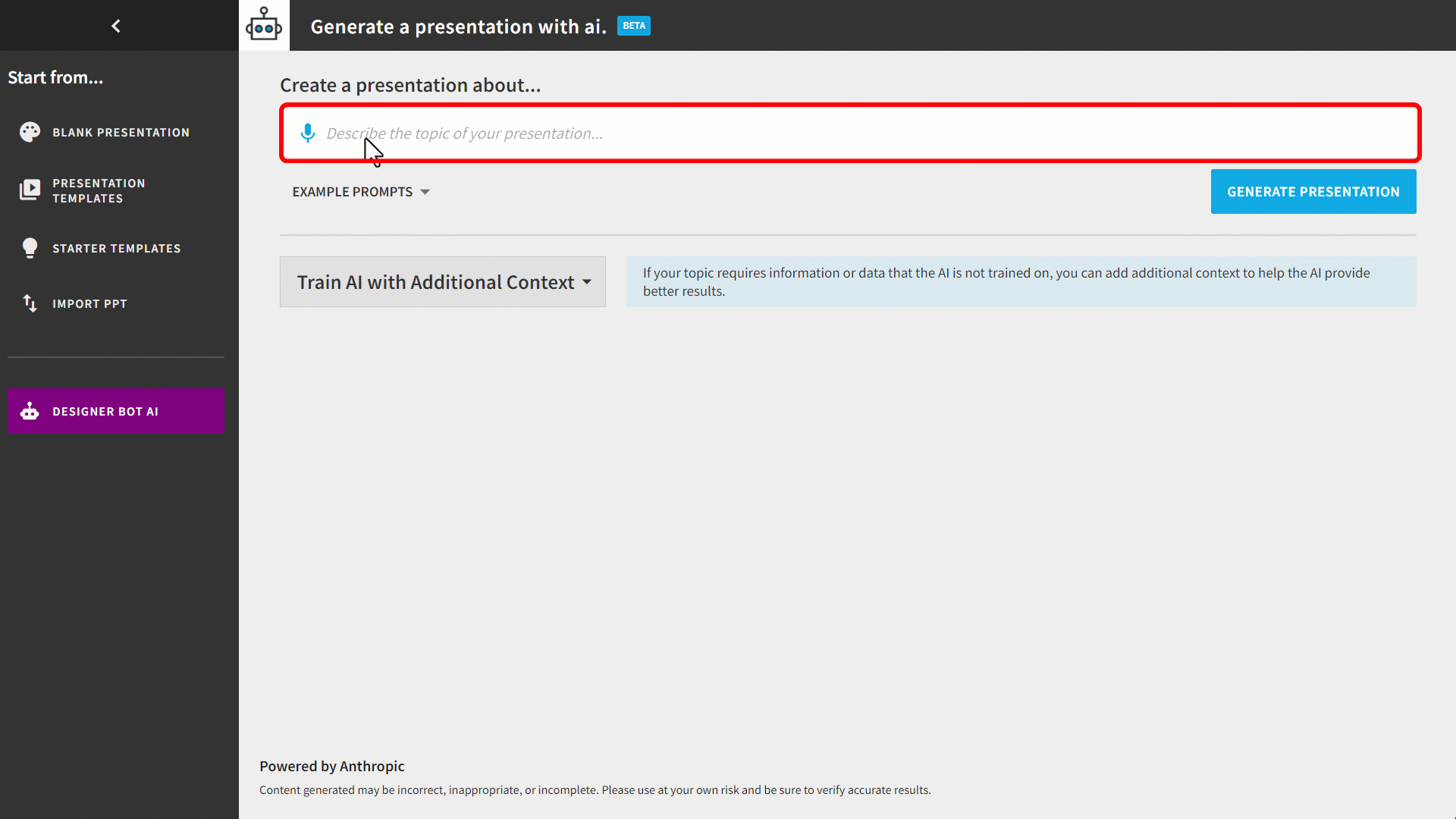 The prompt is automatically added as the title of your deck: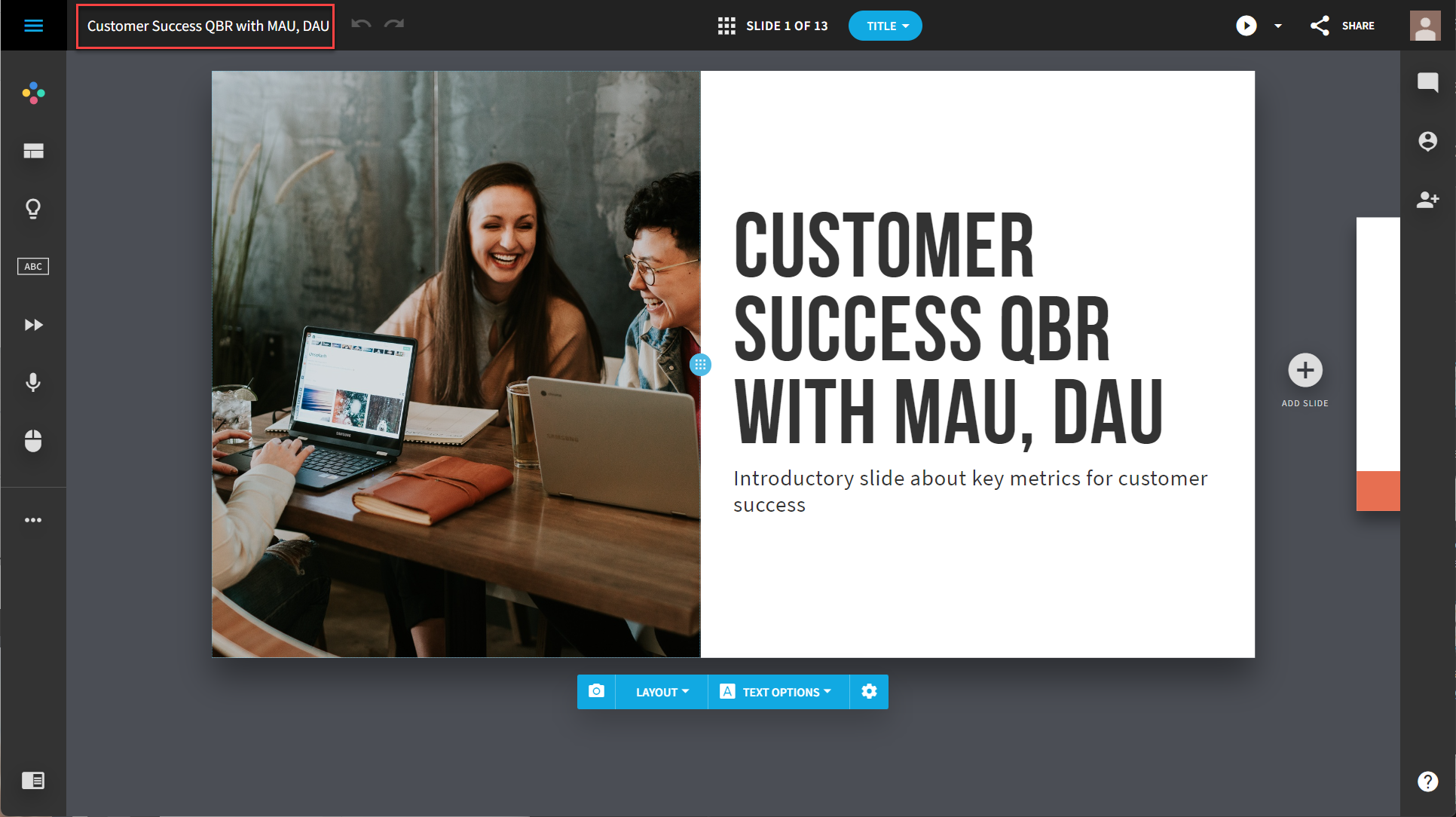 With Context AI, you can feed in additional contextual information alongside your prompt and DesignerBot will output an 8-12 slide presentation specific to your content. You'll be able to:
Upload a doc or pdf file
Link a Webpage
Or just add in additional Text

Under 'Create a Presentation about..', type in a description of the topic or type of presentation you are creating. Then, click on Train AI with Additional Context. From there, add additional contextual information for the AI to process your prompt.
Click Generate Presentation. Designerbot will begin to generate your slides. This process may take a few minutes depending on the amount or complexity of information you've uploaded.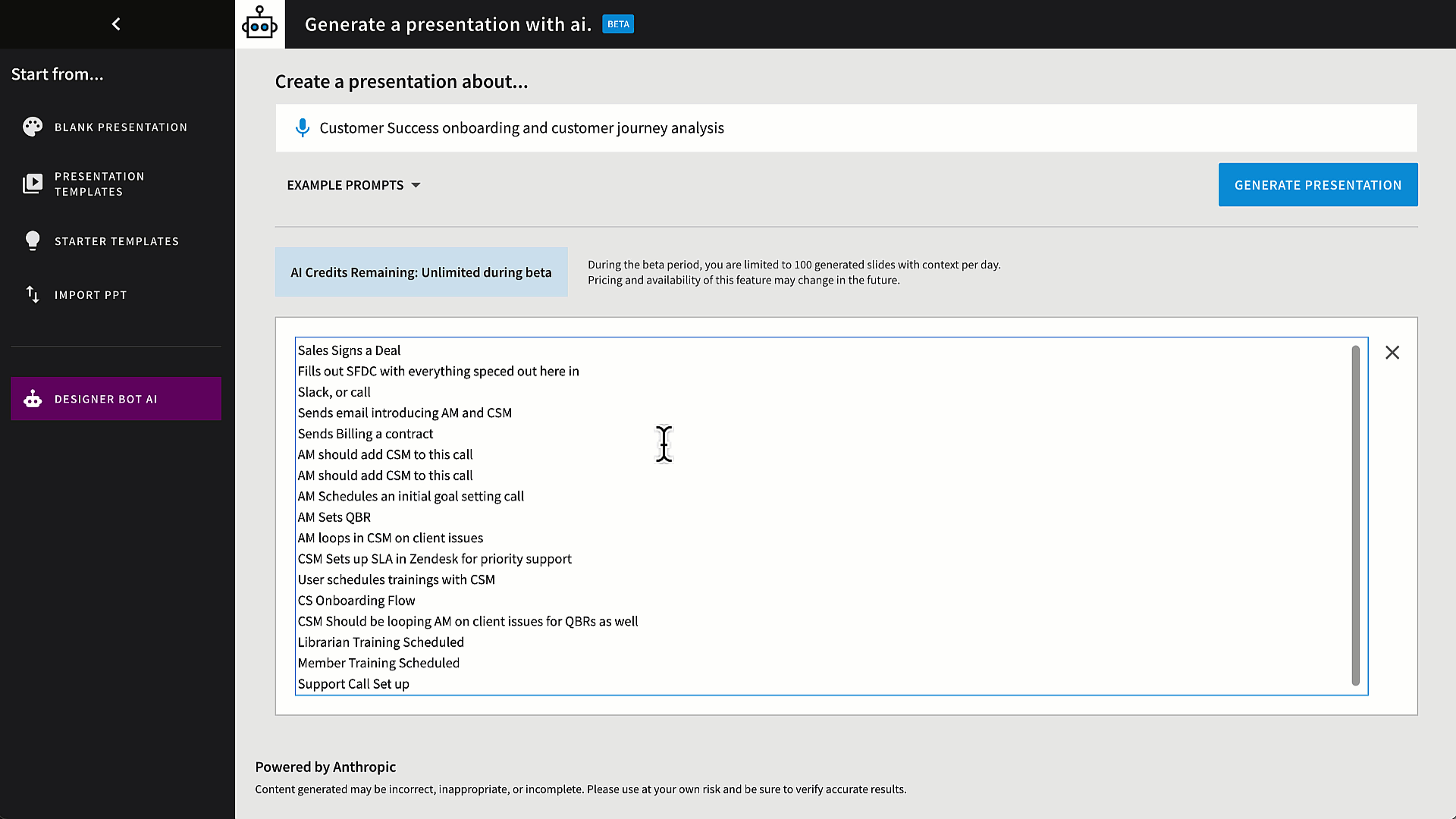 Voila! A completed presentation based on the information you've given it. Note: regardless of the amount of context you add, Designerbot will only output an 8-12 slide deck.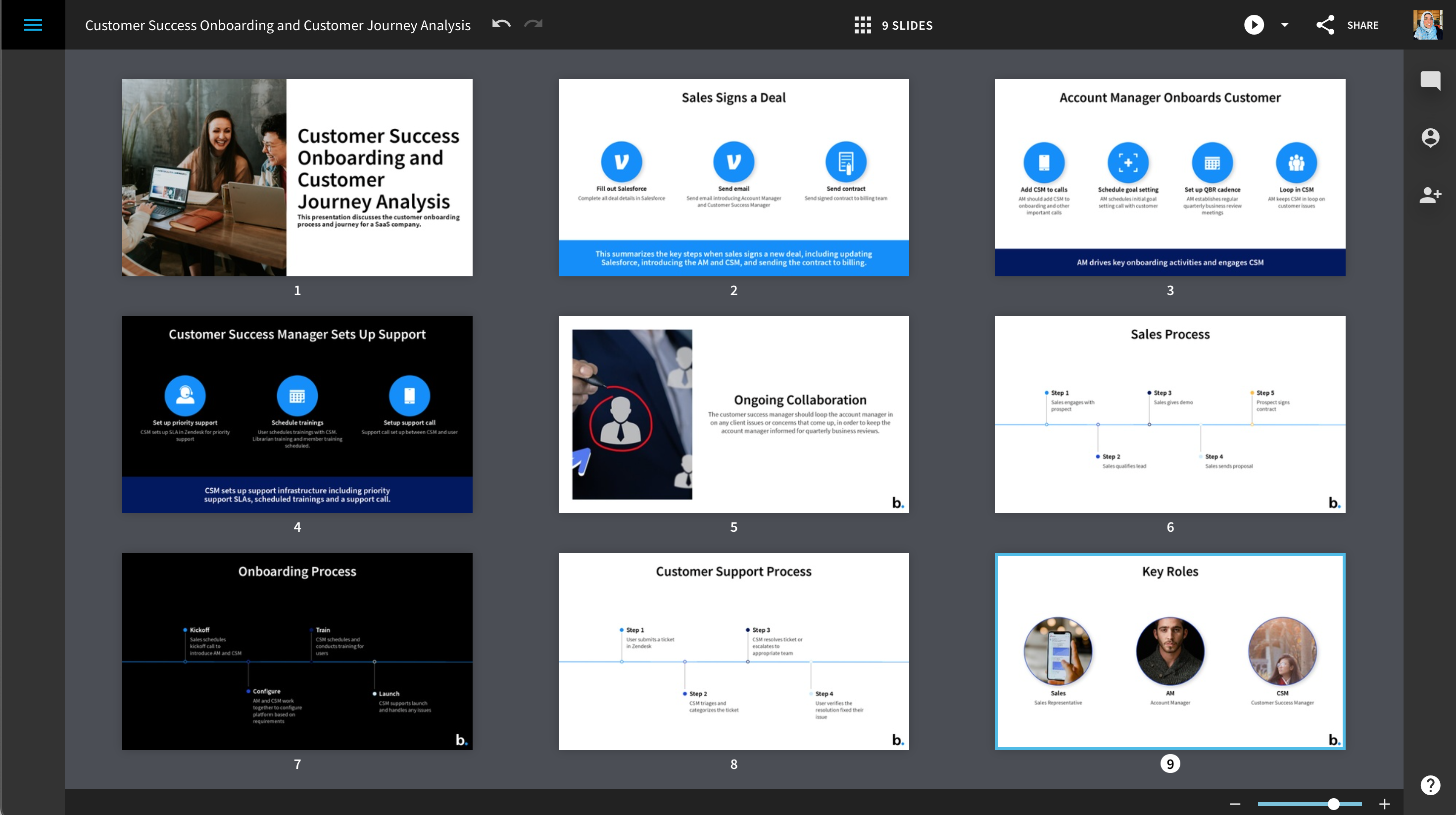 Context Credit Limits
During the beta period, users will have a daily rate limit to ensure optimal performance when using the context feature. If you create a presentation with a single prompt without context, you will not hit any limits. Below is a breakdown of the credit usage and limits:
Trial users get 100 credits to use the Context AI feature. Once the credits run out, you'll need to upgrade to use the tool. A credit counter is displayed at the top of the context window.
Pro/Team users have free access while in beta with a limit of 200 slides/day per 24-hour window.
If you cancel a request or retry a request, it counts against your daily limit.
Prompts without context do not count against your credits.
Understanding Prompts
A prompt is the description of a presentation that you enter into DesignerBot. Basic descriptions can be simple words or phrases and will output simple decks. For more advanced decks, you'll want to be specific and detailed.
Basic Prompt: Investor Pitch Deck
Advanced Prompt: Investor Pitch deck for a Series A company in the fintech B2C space
If you just need a framework of a deck, basic prompts are a great way to get your slides and images created
Translating Text
Currently, DesignerBot prompts can only be written in English/Latin Script. To translate a deck, write your prompt in English/Latin script and then add " , Translate from [Language] to [Language]" at the end. Example: "A pitch deck for a mobile app that sells train tickets called 'Ticket to Ride', Translate from English to Japanese "

Outputs this: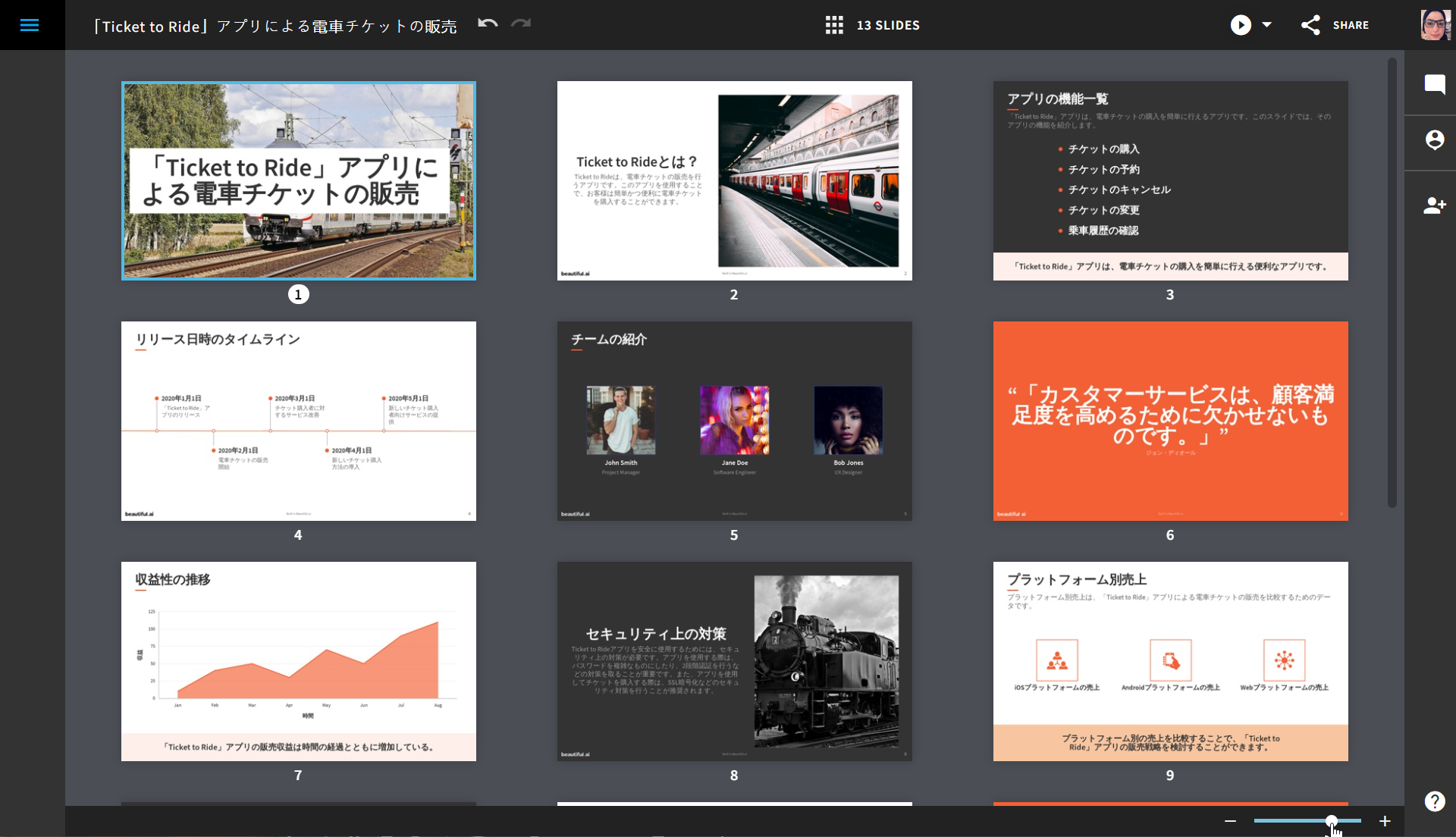 If you use an Arabic Script language, Designerbot will translate the prompt in English automatically. This will be addressed in a later update: